Steve Ryan, $116 | member price $111
March 12 - April 16, 2019 | Tuesdays 6 - 8pm
Discover the wonders of paper clay, how to make it, and how to utilize it in your pottery. Create pieces using slab building and construction techniques.
Registration fee includes clay
Lexi Brumbaugh, $116 | member price $111
May 7 - May 23 | Tuesdays & Thursdays 6 - 8pm
Roll up your sleeves and get dirty with this introductory course on how to make cups, bowls, and other functional pottery on the potter's wheel! On average, students will make 8-10 glazed and fired pieces
The registration fee includes 1 - 25lb. bag of clay
Steve Ryan, $116 | member price $111
June 11- 16, 2019 | Tuesdays  6 - 8pm
A study of the history of Raku from its origin in Japan to its use in contemporary American ceramics. Students will learn to make, glaze, and fire their own pots. **Must have some wheel throwing or slab building experience
** Raku items will be fired on the Saturday following the last class (July 20th). The time will be determined at a later date.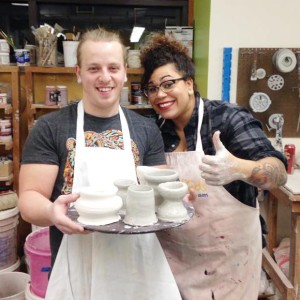 Mud Slingers Pottery Parties
$30  | $25 per person
Bring your friends and prepare to get messy while you learn the basics of the potter's wheel! You will make your own pots and choose your glaze! A minimum of 6 participants. All materials included. Feel free to bring your own food!
Approximately 2 hours long.
Call 223-5900 to schedule your party!
No outside alcohol beverages are permitted at the Art Center.
No outside alcoholic beverages are permitted at the Art Center.