Jeremy Young, $100 | $95
Tuesdays, May 22 - June 19 | 6 - 8pm
Roll up your sleeves! Get dirty with this introductory course on how to make cups, bowls, and other functional pottery on the potter's wheel!
Steve Ryan, $116 | $111 per session
Tuesdays 6 - 8
June 26 - July 31
Explore what can be created with a simple slab of clay! This class will focus on construction techniques with an introduction to slump &
hump molding.
Steve Ryan, $64 | $59
Wednesdays, September 5 - 26 | 6 - 8pm
Learn more about basic glaze chemistry for pottery. Mix glazes, test methods, & learn safety procedures. No experience necessary!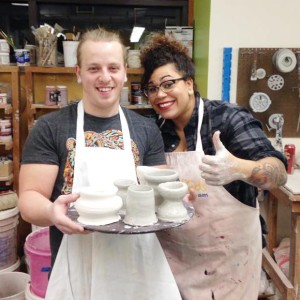 Down & Dirty Parties
$30  | $25 per person
Bring your friends and prepare to get messy while you learn the basics of the potter's wheel! You will make your own pots and choose your glaze! A minimum of 6 participants. All materials included. Beverages and light snacks are provided, but feel free to bring your own too!
Approximately 2 hours long. 
Call 223-5900 to schedule your party!