Entrepreneurial Artist Workshop Series
Saturday, January 26 | 10am - 2pm
Join us for a FREE workshop with complimentary lunch! In this workshop we will identify resources for finding online juried art competitions as well as focus on two specific local competitions: the Biennial Quad State Competition and Q-Fest. We will review competition criteria and discuss how artist objectives/goals should be the driving decision for application. We will explore two simple programs that can be used to edit digital images to meet application requirements. We will also demystify the juror process. (We will not be covering how to take digital images or writing artist statements as those were covered at previous Entrepreneurial Artist Workshops.)
Family Holiday Workshops
Open to all families including kids, parents, grandparents, aunts, uncles, and more! Meets once a month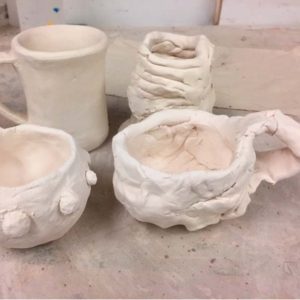 Staff, $16 per person | $11 per person
Saturday, January 19 | 1 - 3 pm
Families work together using clay to construct and glaze a set of mugs for each person in the family.
Staff, $16 per person | $11 per person
Saturday, February 2 | 1 - 3 pm
Come spend some quality family time making valentines for family, friends, and each other!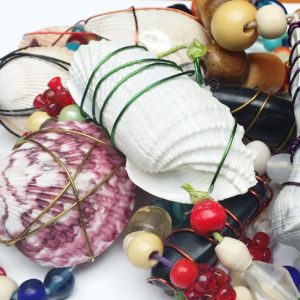 Staff, $16 per person | $11 per person
Sunday, March 17 | 4 - 6pm
The whole family can come together on St. Patrick's Day and make good luck charms with real four leaf clovers!
Visiting Artist Workshops
meets once
Ann Coddington | $60
Saturday, March 2 | 9am - Noon
In this workshop, the ancient basketry technique of twining will be introduced. Participants will begin to create a unique sculptural twined form using waxed linen and spring twine. In conjunction with this, we will engage in a discussion on conceptual aspects of contemporary fiber structures. Students need to bring sharp scissors and a large towel. Coddington has a solo exhibition, Made and Found, on view at the Art Center, Jan 25 - March 1, 2019. Coddington is a professor of art at Eastern Illinois University.
Kelsey Viola Wiskirchen | $50
Saturday, March 16 | 9am - Noon
Visiting artist Kelsey Wiskirchen will teach the same Itajime Shibori dye process used in her upcoming Quincy Art Center exhibition, "The Walls Remember." You will create a vibrantly colorful, geometric patterned silk scarf using fiber-reactive dyes that become permanent through a steam-setting process. This will be a great way to meet the artist and create a unique wearable artwork of your own!
No outside alcoholic beverages are permitted at the Art Center.