Classes & Workshops
You can be an artist! If you are 4 through 104, register for a class and develop your artistic skills at the Quincy Art Center! Classes meet on a weekly basis and are 1 to 6 weeks long. High School students can take adult classes and workshops.
For questions on classes or private parties, please email Kayla Obert at kobert@quincyartcenter.org.
Scholarships
What is the cost of Quincy Art Center classes? Kid's classes range in expense from $14 for a one time workshop to $63 for a 5 week class. For summer Art Camp, our most expensive kid's classes are $96. They meet for 4 days in a row from 1 – 4 p.m.
How are scholarships awarded? To apply for a scholarship, please turn in a copy of the child's free or reduced Lunch status with their class registration form.
How much does a scholarship cover? The scholarship covers 100% of the price of the class.
How many scholarships can a child receive? Each student is eligible for 4 scholarships a year.
How are scholarships funded? The Art Center raises money for scholarships through our annual scholarship dinner and through the donations of generous individuals who have a passion for education. Please visit our donation page if you would like to make a donation.
Please contact Kayla Obert, director of education & volunteers with questions: kobert@quincyartcenter.org.
View & Register for Classes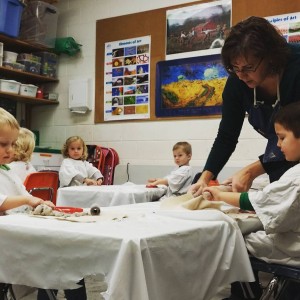 Testimonials
"Just wanted to let everyone know about a great resource right here in Quincy.  The Quincy Art Center offers classes for all ages in a variety of art areas.  The classes are taught by qualified staff; most have an art degree and those who don't have many years of experience.  The class sizes are small and the art center has equipment and supplies not available at any other art teaching facility in Quincy."    
-Stephanie Javaux, Instructor
"My daughter's favorite movie is Mary Poppins, so when we saw a class in the summer program, it was a 'summer must do'! This particular class combined theatre (Quincy Community Theatre) and art (Quincy Art Center). The anticipation built throughout early and mid-summer. When class started, she came home each day talking non-stop about what they did. She has done art classes in the past and has found her own 'style of creativity'. Because of this, I thought I knew what to expect when we went to QCT for their skit to wrap up class....and she surprised me. Not only was she dancing and singing, her artwork was great. It was quite evident that she had taken her  time with her pieces and really put 100% into them. They had her style written all over them, but they were well done and looked amazing. This class was wonderful for her! The topic was perfect and she really came out of her shell to do the acting part and learned some wonderful things about art as well. Since then she has spent time at home using some of the techniques she learned during that class and it has been interesting to see what she comes up with! Big thanks to both organizations for a great experience! She is currently looking forward to her next class...Minecraft!"
 -Happy Parent        
"I've always been a crafty person. Whether indulging in photography, scrapbooking, sewing, crafting home décor, or other modes of art, it has been an important part of my life for as long as I can remember. When I started having children, life changed drastically.  My ability to pursue my love for art in the ways of the past has become a memory, limited by the intermittently beautiful and ugly chaos of parenthood.
Instead of disappearing from my life, however, art's importance in it has transformed into something different but even more profound. In many ways I can credit this to the blossoming love my 4-year-old son has for art thanks to the "Pint-Sized Picassos" class at the Quincy Art Center . A friend invited him to go to this class with her a year ago. Although he was very shy, he went outside of his comfort zone and attended with her. After the first class it was clear that he had no regrets about that choice! Ever since then, he searches for the artistic possibilities in just about everything he sees and is constantly coming up with ideas for projects. This year, both he and my 3-year-old daughter attend this class at the Art Center together and look forward with great excitement to Fridays each week when they get to go."
-Shannon Slee
Quincy Art Center Privacy Policy
The Quincy Art Center is committed to maintaining your confidence and trust, and accordingly maintains the following privacy policy to protect personal information you provide online.
Our Commitment to Online Security Physical, electronic and managerial procedures have been employed to safeguard the security and integrity of personal information. Billing information is processed through ProClass and encrypted whenever transmitted or received online. PCI & DSS standards are maintained to make sure that ProClass is always compliant with industry best practices. Personal information is accessible only by staff and volunteers designated to handle online complaints or requests. All QAC employees with access to personal information obtained on QAC's web site are also bound to adhere to this policy.
Personal Information that QAC May Collect Online QAC collects the following types of personal information: names, postal and e-mail addresses, phone numbers, billing information.  QAC collects and maintains information from those under the age of 18 for only class registration.
How QAC May Use Personal Information Collected Online QAC will not use your personal information other than for the purpose for which it was submitted without your consent. We use personal information to reply to inquiries, handle complaints, and in program recordkeeping. We also process financial contributions to the art center for memberships, gifts, or program fees. At any time you can add or remove your name from our mailing list by contacting Marketing Coordinator, Elizabeth Rankin at erankin@quincyartcenter.org
How Your Information May Be Shared QAC never sells or rents personal information to any other organization.
Help Us Keep Your Personal Information Accurate If your personal information changes or you would like to review the personal information we may have on file, please email us with the new information or your review request to Development Associate Kelsey Celek at kcelek@quincyartcenter.org
Computer Tracking and Cookies Our website is not set up to track, collect or distribute personal information not entered by its visitors. Our site logs do generate certain kinds of non-identifying site usage data, such as the number of hits and visits to our site. This information is used for internal purposes by technical support staff to provide better services to the public and may also be provided to others, but again, the statistics contain no personal information and cannot be used to gather such information.
A cookie is a small amount of data that is sent to your browser from a Web server and stored on your computer's hard drive. QAC uses non-identifying cookies to provide easier site navigation and access to forms. You can still use the QAC website if your browser is set to reject cookies. Our cookies do not generate personal data, do not read personal data from your machine and are never tied to anything that could be used to identify you.
Refunds Fees will be refunded if you withdraw from a program before the first day of class.  If you must withdraw after this time, no refund will be given, except for documented medical reasons. Refunds will be sent to you in check in accordance to the QAC's bi-weekly accounting cycle.
Problems If you have a complaint about QAC's compliance with this privacy policy, you may contact the Executive Director Jennifer Teter at jteter@quincyartcenter.org.