43rd Annual High School Student Art Competition
Friday, January 27 through Thursday, February 23, 2017. 
Artwork Drop Off Dates
Thursday, January 12 │ 4 - 6 p.m.
Friday & Saturday, January 13 & 14 │ 9 a.m. - 4 p.m.
All accepted artwork will be posted on January 21st.
Non-Accepted Artwork Pick Up Dates
Saturday, January 21 │ 9 a.m. - 4 p.m.
Monday, January 23 │ 9 a.m. - 4 p.m.
Accepted Artwork Pick Up Dates
Thursday, February 23 │ 4 - 5:30 p.m.
Friday & Saturday, February 24 & 25│ 9 a.m. - 4 p.m
Awards
There will be $1,475 in awards given this year.
All awards will be presented at the discretion of the judge. Criteria for awards include originality and quality. Award winners will also be invited to co-curate the following summer's Permanent Collection Exhibition at the Quincy Art Center.
$500 Best of Show
$300 2nd Place
$150 3rd Place
$100 Merit Award (2)
$50 Great River Watercolor Society Award (2), *can be combined with other awards
$50 Honorable Mention Award (3)
$25 Quincy Artist Guild Award (3)
Students grades 9-12 from schools within a fifty-mile radius of Quincy, Illinois are eligible. Works will be judged for inclusion in the exhibit, and those accepted for display must meet the following criteria:
Conditions
Students may enter up to 3 works for $10. All artwork must be original.  No copies of copyrighted imagery are allowed.  All two-dimensional artwork be suitably framed, and ready for exhibition with a secure wire fastened to the back. Sawtooth or plate hangers are not preferred. White matting is preferred. No damaged mats. Three-dimensional and two-dimensional artwork cannot be over 6 feet in any one direction. Artwork requiring a digital presentation must come with its own viewing device.The following materials used as hanging devices will not be accepted: Packing tape, scotch tape, epoxy/glue, string/yarn, and pipe cleaners. 
Sales
Student artists are able to price and sell their artwork to the public. The Quincy Art Center will retain a 30% commission that will support the programs of the Art Center.
Sales prices must reflect this commission.
Judge
Judge Priya Kambli, Professor of Art, Truman State University in Kirksville, MO
Publicity
The Quincy Art Center shall have the right to photograph  any work for educational and publicity purposes.
Insurance The utmost care will be taken in the handling of works, the Quincy Art Center assumes no responsibility for loss or damage to any artwork.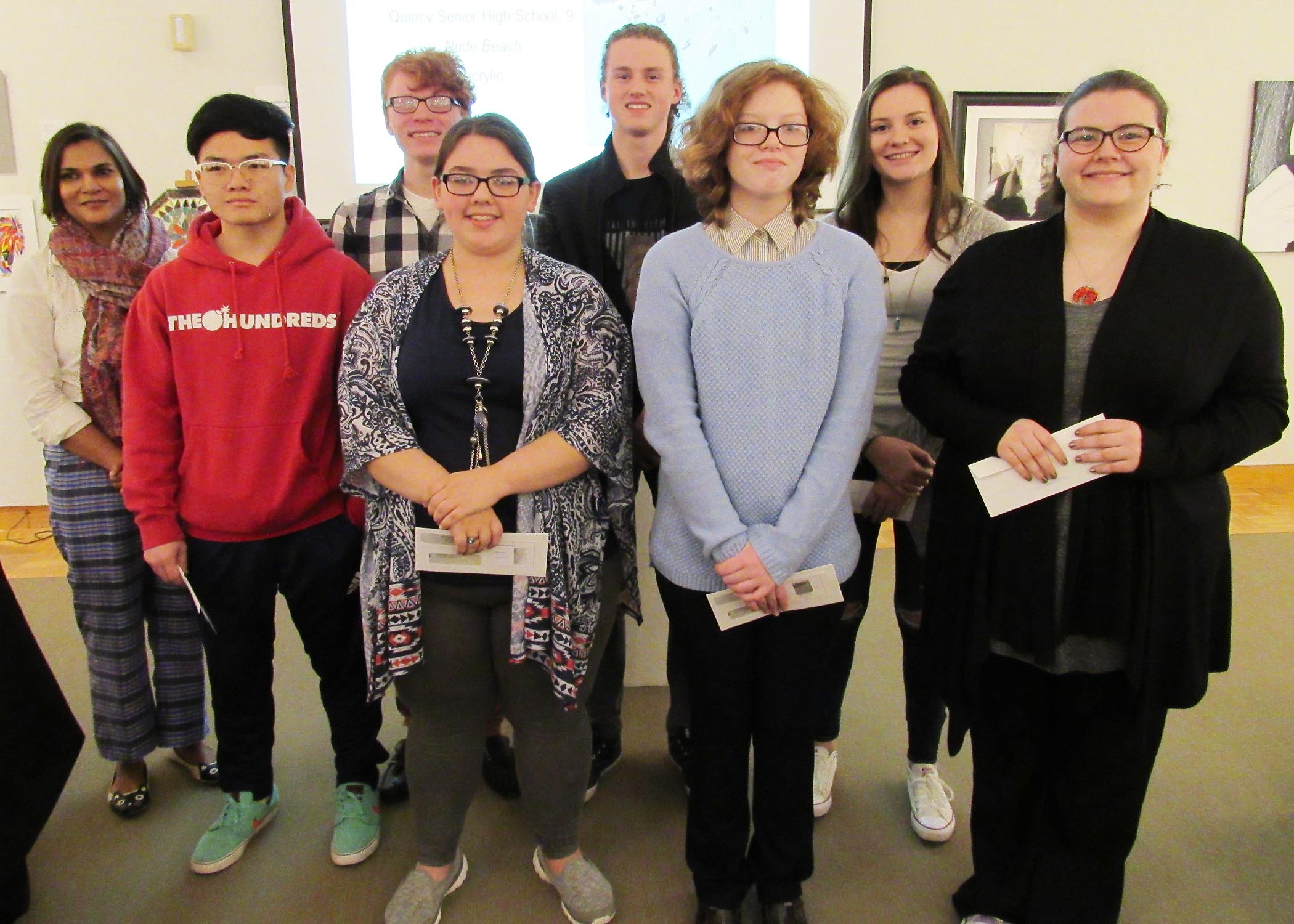 43rd Annual High School Student Art Competition Award Winners
Best of Show-$500 to Felix Hammock of Quincy Senior High, 9
for Nude Beach, acrylic
Second Place-$300 to Brainne Shaffer of Unity High School, 11 for Four Seasons,
paper
Third Place-$100 to Madeline Estepp of Quincy Senior High, 12 for Willow,
aluminum wire, and glass beads
Merit Award-$100 to Abby White of Logan Private Studio, 10 for Mapped Bird,
ink on old map
Merit Award-$100 to Jordyn Hamm of Hannibal High School, 12 for Haunted,
lino cut print
Honorable Mention Award-$50 to Andrew Koblas of Hamilton High School, 11 for
Tsuki, pen and ink
Honorable Mention Award-$50 to Payton Williams Liberty High School, 10 for Mother Mallard,
Oil
Honorable Mention Award-$50 to Echo Dunton of Highland High School, 11 for Self Portait by Holes, altered white paper
Great River Water Color Society Award-$50 to Wyatt Watkins of Pittsfield High School, 10 for Lakeside Aura, markers, water, sharpie
Great River Water Color Society Award-$50 to Zayne Gaus of Highland High School, 10 for
Self-Portrait, gouache paint
Quincy Artist Guild Award -$25 to John Quinn of Quincy Notre Dame, 12 for Self- Portrait,
ink
Quincy Artist Guild Award -$25 to Tahj Tasco of Highland High School, 10 for Lady Bug Zentangle, black ink
Quincy Artist Guild Award -$25 to Gage Yinger of Hamilton High School, 12 for Paisley,
pen and ink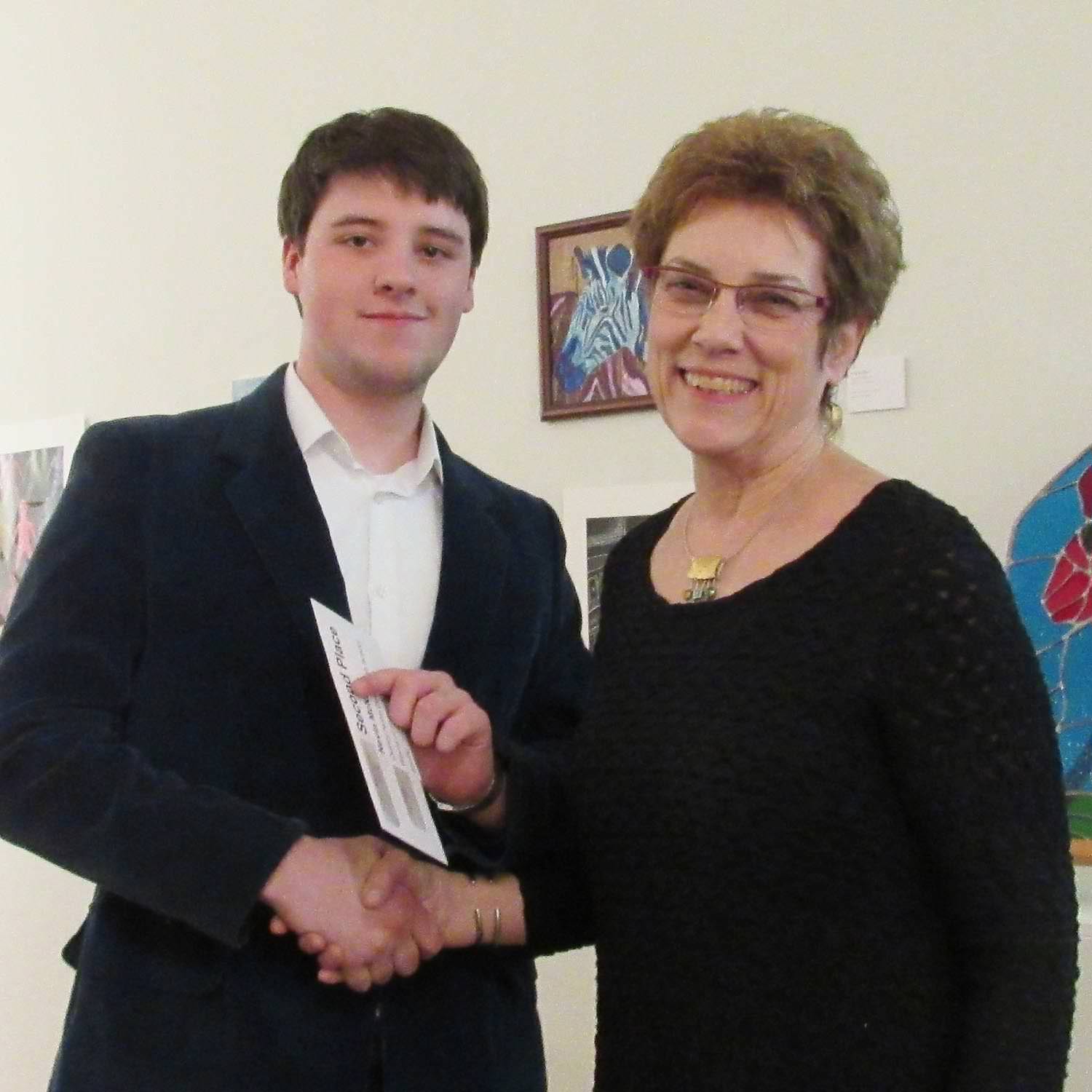 Student Testimonial
"After winning Best of Show at Quincy Art Center's 41st Annual High School Student Art Competition, I received a scholarship to the FAA summer intensive camp at the University of Illinois. At first, I did not know what to expect. I was nervous and some-what uncertain of my place at this camp. After being informed on where to go, I quickly learned that the camp was full of art lovers just like me from across the country and the world. During this camp, I got the full college experience. For a week I lived in a dorm, went to my major and minor art classes, traveled the campus, and made friends for a lifetime. The FAA summer intensive taught me so much that I will continue to use as a painter. I am grateful for having the opportunity to attend this camp and encourage anyone who has the chance to go, it will be a week they never forget!" -Nevin McNally