A fundraising event connecting art lovers with artists to benefit the Art Center's exhibits and education programs!
A Match Making Mixer
Thursday, October 26, 2017
6 - 9 p.m.
"Shop the mARkeT" of select local artists! Each one will have a sampling of their work on display. You can meet and choose an artist to create a custom piece of art for your home or business! Free and open to the public.
The artwork commissioned will be revealed at the mARkeT: Reveal Gala on Saturday, April 7 from 7-10 p.m. The main event will be the unveiling of each artwork. This will be the owners' first chance to see the art as it is unveiled!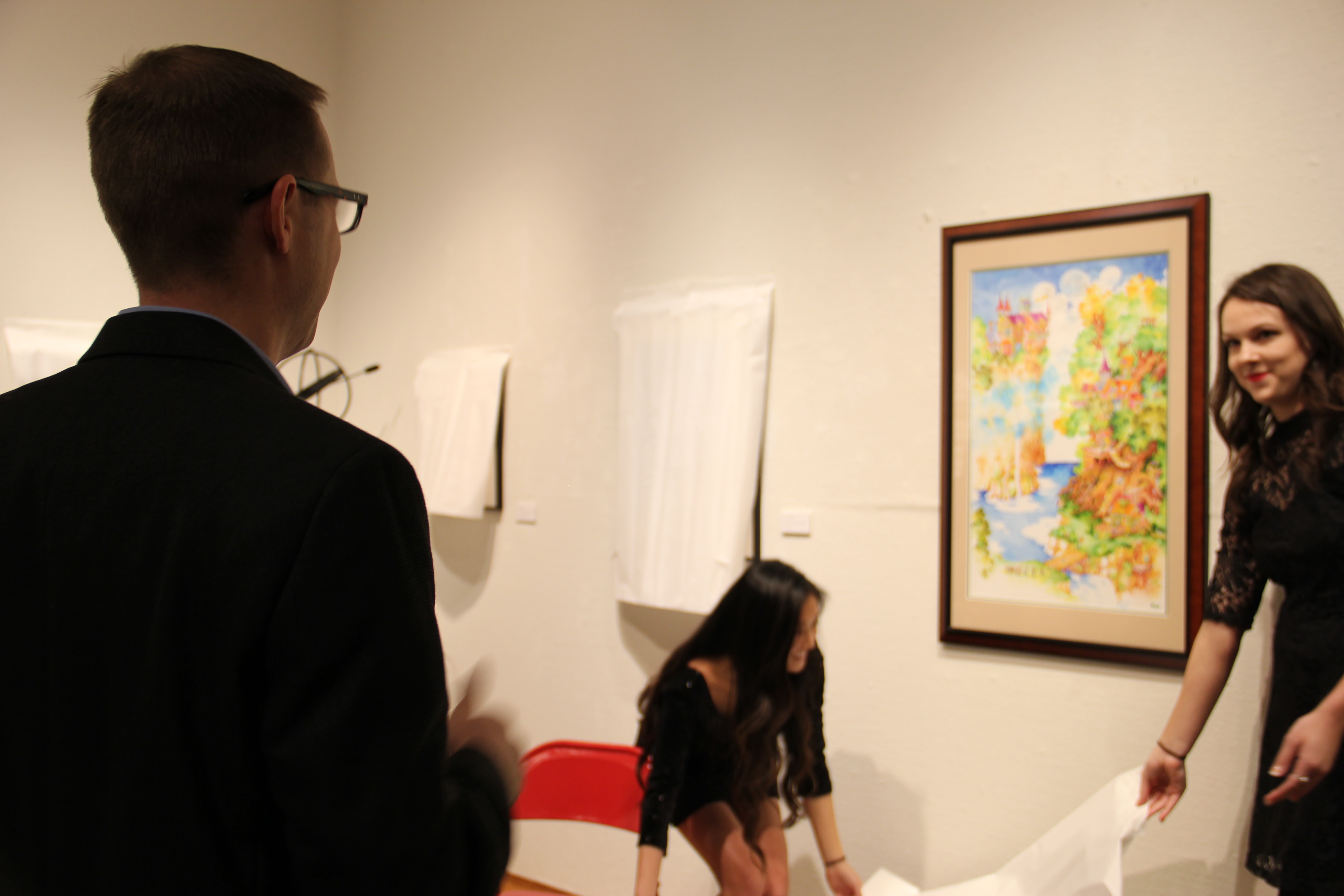 Matchmaking Reveal Gala
Saturday,  April 7, 2018
7 - 10 p.m.
$50 per person. Buy your tickets now!!
Art patrons who have commissioned original work attend for free.
Mark your calendars for the unveiling of the finished pieces created after the mARkeT Matchmaking Mixer! This will be the owners' first chance to see the art, as it is unveiled by artist, since commissioning the piece back in October.
The Quincy Art Center will be transformed into an authentic French marketplace. Heavy hors d'oeuvres prepared by local chefs, signature cocktails, performances by local musicians, a variety of entertaining "spectacles" never before seen in Quincy, and the main event: the
unveiling of each custom work of art when the new owners get their first glimpse of their new original artwork.
2017 Artist
Terry Austin | wood furniture
Steve Bohnstedt | fine art documentary style photography /mixed media
Linda Buechting | watercolor or oil
Peggy Buchard - Ballard | collage, mixed media
Joe Conover | cold wax
Kelly Eddington | watercolor
Robin Henehan | stained glass
Howard Kuo | watercolor
Tim Laffey | acrylic on canvas
Cindy Logan | painting
Dave Maas | painting & printmaking
Nadine Mitchell | painting
Robert (Bob) Mejer | watercolor & printmaking
Zachary Meyer | sculpture
Bruce Morton | photography
Elizabeth Rankin | glass engraving, functional ceramic, sculptural ceramic
Addie Seabarkrob | watercolor or acrylic
Amber Smith | painting
Kharisma Sommers | jewelry
Janice Teter | oil or watercolor
Vincent Udry | painting or gold jewelry
Kevin Warning | painting
Laura Wright | painting, pen & ink illustrations
2016 Artist
Brenda Beck-Fischer | watercolor
Jennifer Bock-Nelson | detailed nature/drive series painting
Steve Bohnstedt | fine art documentary style photography /mixed media
Jeffrey Bruce | mixed media
Linda Buechting | watercolor
Joe Conover | encaustic
Judge Robert Cook | watercolor
Laura Stewart DeRosa | oil painting/pastel drawing
Jamie Green | watercolor/pen and ink
Robin Henehan | mosaics on reclaimed windows
Howard Kuo | watercolor
Zach Meyer | multimedia assemblages/sculpture
K. Nadine Mitchell | multimedia oil/collage
Brad Pogatetz | photography
Larry Siwek | watercolor landscapes
Steven Stoll | mixed media
Jennifer Teter | sculpture/ceramic
Ann Miller Titus | fiber
Laura Wright | watercolor on paper/oil on canvas