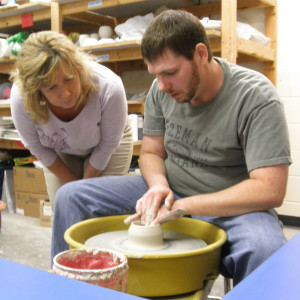 Beginning Wheel Throwing
Beginning Wheel Throwing
Jeremy Young, $20 material fee
$85 | $80 Registration Fee
Tuesdays 6-8pm
• April 18-May16 or
• May 30-June 27
Roll up your sleeves and get dirty with this introductory course on how to make cups, bowls, and other functional pottery on the potter's wheel!Students can take session 2 without taking session 1.
More Ceramics Classes
Beyond the Wheel
Vicki Sandercock, $68 | $63,
$20 Material Fee
Wednesdays 6-8pm | April 19-May 10
Make your pottery unique with handles, decorative slips, carvings, textures and glazes. For all levels! No experience necessary.
Abstract Ceramics
Steven Stoll, $68 | $63, $20 Material Fee
May 8-29 | Mondays 6-8pm
Roll it, coil it, extrude it! Discover methods to acheive various forms in clay. You will experiment with the object's surface, with a variety of glazes slips and engobes. All levels welcome!
Group Parties
Down & Dirty Date Night Parties
Steven Stoll, $40 | $30 per couple
Bring your sweetie, your own beverages, and prepare to get messy! Learn basic intro to the potter's wheel. Couples will make their own pots and choose their glaze! A minimum of 3 couples.
Call 223-5900 to schedule your party!